Clubs, players agents and players are welcome for any cooperation
We are a Dutch football academy and we also have a total soccer management for young talented players. We have players who come from a professional football organization, but also young players who have played the highest amateur division.
We have the best technical trainers and widely we give seminars in the field of technical training for youth and professionals. We have highly skilled ex-professional footballers that use the best training methods.
Our management features players from 16 years to 26 years and are almost transfer free.
We also have a team of  young players who can play a friendly match against any team in the world. This allows you to view and evaluate our players to see if there is a talented player for your club between them. We have players that are ready for any invitation for an internship at your club.
Our trainers are former AJAX players who passed one of the best football education in the world. Trainers with sports education who understanding the best way to teach children and adults. We are using the Wiel Coërver methods in combination with our experiences and vision of current football.
We give the best professional football technique training . We have a total football management to use in the world of football business. Ask for our conditions to realise with us the best football technical training seminar in your country. We will bring our best trainers (also for goalkeeping)for the best course, price and conditions.
Would you like to come and participate with your players in our Academy?
We offer total packages including Hotel, trainings, Ajax tour, friendly matches and much more.
Minimum number of persons 12 and minimum 2 own supervisors
2 trainingper day according to the Dutch way.
Friendly match for your team and a visit to a training of AJAX (or desired club).
Visit to a game of a Dutch top club
Transportation and guidance visit an attraction park and any own wishes.
 Request via email and we will contact you.
Control
One of the most important football skills a player should practice is to improve the ability to control the ball using any surface that enables the player to instantly make a decision on the next pass or shot. We look to provide training practices that encourage the players to work on and improve their football skills of ball control and turning with the ball.
Football skills practices that encourage the players to work on and improve their ball control using a variety of surfaces such as the foot, the thigh, the chest and the head are all related to the football skills the players will require in matches. In addition, the training sessions should also provide lots of different paced and height passes, which again, will test the player's ball control football skills.
Players will also need to develop a variety of football skills that assist them with the ability to turn with the ball, both when receiving passes or to twist and turn out of tight areas or away from opponents.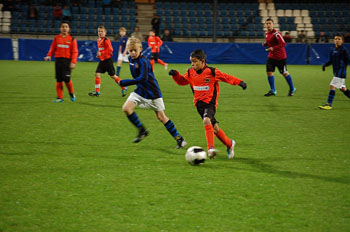 Passing
One of the most fundamental skills of playing football is the ability to pass the ball accurately, with the correct timing and weight of pass. We look to provide lots of different football training drills and sessions to develop a wide range of passing skills. Football training practices that focus on improving passing techniques and skills across a range of distances, along with football training information to develop passing, support and movement should all be part of an ongoing football training programme.
Football training sessions that encourage the players to practice and improve the most appropriate passing techniques are vital. Before players can implement the correct passing technique, they will need to receive and control the ball and set it out of their feet, so they can get their head up, assess who they want to pass to and then employ the most appropriate passing technique.
Within these football training sessions there should also be a focus on the need for other players to provide support, movement and communication for the player on the ball.
Key Factors to improve passing in football training sessions
Create space to receive the ball
Cushion the ball out of the feet, to be in a position to make the pass
Observe target before passing
Select the correct passing technique
Approach the ball from the correct angle
Strike through the correct part of the ball
Use the correct part of the foot
Follow kicking foot through to target
Move to support the pass or the next player
Dribbling and Running with Ball
The ability for a player to beat an opponent and create a goal scoring opportunity with a pass or a shot is a priceless skill. Players love to show of their skills by dribbling and running with the ball. Coaches should ensure there are lots of training sessions and football that provide players with the opportunity to develop and improve their dribbling and running with the ball skills.
Football Drills to improve dribbling
Receiving the ball
Positive attitude to dribbling skills
Exaggerated shift of weight (trick to dummy opponent)
Change of direction opposite way to trick
Burst of pace into space
Head up to assess options
Running with the ball Football Drills and Sessions
Positive first touch into space
Run quickly and aggressively
Use front of foot when running with the ball
Run in a straight line where possible
Head up to assess options